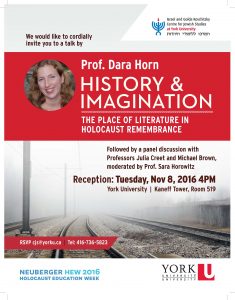 It is our pleasure to invite you to a talk with Prof. Dara Horn, entitled "History and Imagination: The Place of Literature in Holocaust Remembrance". The talk will be followed by a panel discussion with Professors Michael Brown, Julia Creet and Sara Horowitz.
The event will be held on Tuesday, November 8, 2016 at 4pm at the Kaneff Tower, York University, room 519. Light refreshments will be served.
Dara Horn is the author of four novels: In the Image (2002), The World to Come (2006), All Other Nights (2009), and A Guide for the Perplexed (2013). Horn holds a doctorate in Yiddish and Hebrew literature from Harvard University, and has taught courses in these subjects at Sarah Lawrence College, City University of New York, and as the Gerald Weinstock Visiting Professor of Jewish Studies at Harvard. She has lectured at over 200 universities and cultural institutions throughout North America, Israel and Australia, and is currently at work on her fifth novel.
To register email cjs@yorku.ca or by calling 416-736-5823.