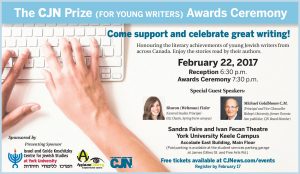 It is our pleasure to invite you to the second annual CJN Prize (for Young Writers) Awards Ceremony on February 22, 2017 at 6:30PM at the Sandra Faire and Ivan Fecan Theatre, Accolades Building East.
Registration and Reception     6:30PM
Awards Ceremony                       7:30-9:00PM
Dessert Reception                        9:00PM
*Kashrut Observed
Free tickets available at: http://bit.ly/CJNPAC
Support, celebrate, and listen to literary achievements of young writers from across Canada ages 18-29, writing on Jewish themes of their choice.
Guest speakers include Michael Goldbloom C.M. (Principal and Vice-Chancellor of Bishop's University, former Toronto Star Publisher, CJN Board Member) and Sharon (Weltman) Fixler (General Studies Principal - Eitz Chaim, spring Farm Campus, CJN Prize Judge).
Congratulations to:
First Prize Winner, Laura Goldfarb
Runners-Up:
Marlon Danilewitz
Hayley Danziger
Evan Daurio
Marsha Druker
Megan Hollinger
Leanna Katz
Benjamin Levy
Dara Poizner
Ezra Tanen